You may remember the plastic swan that I got the other day. I know some of you questioned that purchase, but I thought it would make a fun display at Plucky Maidens.
Swans look swell with rosy cheeks.  I also added a big pink bow and a tag I made.

The swan is now proudly showing off some of my swan items.  Just something unusual to catch ones eye.

And speaking of Plucky Maidens.  I am more than ready for it. My garage is ready to be emptied out.  The pile is mostly props, but there is stuff for sale in the stack as well.
Since Ben is away at college his room  becomes storage after things are priced and bagged and ready to go.  I hope he does not decide to make an unexpected visit home!

I am sure glad I borrowed my dad's truck as there is absolutely no way I could fit it in my Subaru.  The truck is stuffed to the gills.

If you live in the Portland area come by and get Plucky and shop.  Be sure to introduce yourself too! 
Friday, April 27 5-8 $10 admission
Saturday, April 28 10-4 $5 admission
Columbia Conference Center
8521 NE Columbia Blvd, Portland, Oregon 97220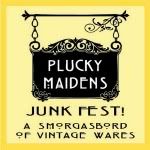 Looking forward to a Plucky weekend..come be Plucky too!