Trophy heads are quite trendy. I see them everywhere.
These were at Hunt and Gather in Minnesota. Taxidermy heads always sell really quickly at estate sales.
Here is a trendy take on them. This one is from Z Gallery.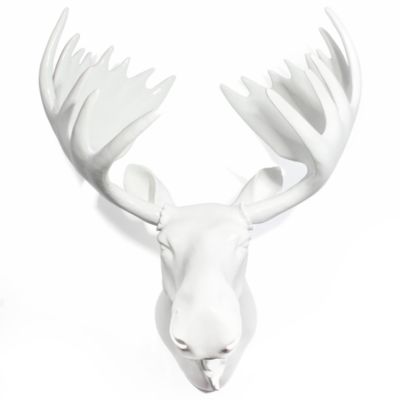 Here are some handmade ones that I saw at Junk Bonanza. Some are made of fabric and are a variety of animals.
This one is jeweled!
Here is my spin on the trophy head. I got a vintage Rempel hobby horse head the other day on Ebay.  Rempel makes the most darling ceramic figures and squeaky toys. I was excited to find a hobby horse head.  The stick was long gone, but the head is adorable.
I bought a wood plaque at an estate sale and painted it and added some scrapbook paper. I aged the scrapbook paper. The garland is an old paper lei with some swiss straw flowers. 
Isn't this a great horse head?
Loved giving new life to this old hobby horse head.  A fun little project. Neeeiiighhhh and Happy Day!